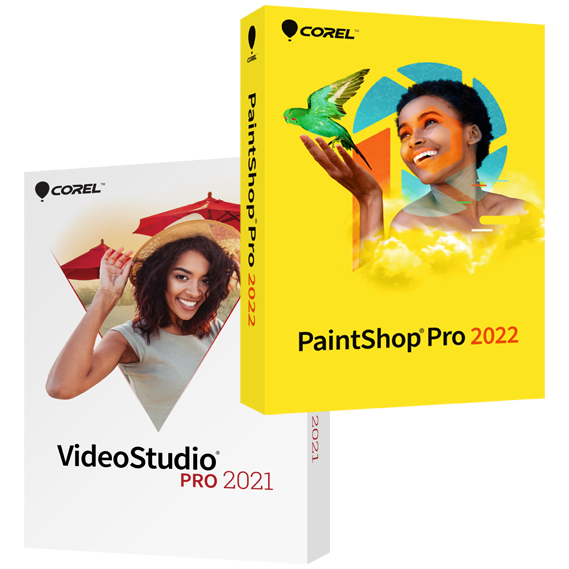 Photo Video Editor Bundle Pro
PaintShop Pro 2022 + VideoStudio Pro 2021
Brighten up your world with a win-win combination of our powerful and fun-to-work photo editing and movie making solutions - no subscription limits!
One-stop solution for photo and video editing
Create stunning photos, immersive videos and unique designs with PaintShop® Pro 2022 and VideoStudio® Pro 2021!
The package includes:
Main applications
Corel PaintShop® Pro 2022 Corel
VideoStudio® Pro 2021
PaintShop Pro Content
Video Tutorial Library at Discovery Center
User manual (online)
Help (online)
VideoStudio Pro Content
Libraries of templates, titles, font packs and music tracks
Library of video tutorials
User Manual (Online) Help (Online)
Bonus software:

Corel FastFlick ™ - Slideshow Maker
VideoStudio MyDVD ™ - disc authoring
Corel MultiCam Capture Lite - video capture and screen recording
With our photo and video editor you will be able to keep the memories dear to your heart forever.
Edit photos and create projects with gradients, layers and text elements with PaintShop Pro.
Use VideoStudio Pro to animate still images and edit video with customizable effects, overlays, transitions, titles, and audio.
Together, these products provide an excellent working environment for every photo and video user, from photographers to cinematographers.
Key reasons for getting to know the product:
Professional Photo Editing Here you will find a complete set of modern tools for editing, correcting and artistic enhancement of images. The package provides powerful editing tools in layer-by-layer mode.
Create Movies in Minutes Flexible and fun to work with - from storyboarding to timeline editing - VideoStudio Pro Video Editor helps you master the skills you need to create memorable movies.
Unlimited creative possibilities PaintShop Pro is equipped with a variety of creative tools, including new brushes, color palettes, gradients, patterns and tubes. VideoStudio Pro boasts hundreds of filters and effects for artistic enhancement of materials.
Easy to Learn and Use Whether you're a media guru or just getting started with photo and video editing, the Photo Video Bundle has the tools to suit your skill level. The various training materials provided in the package will help you succeed quickly.
Non-subscription, cost-effective solution The non-subscription, one-stop software solution that includes everything for photo editing and video production provides significant cost savings. After purchase, you just get Corel Photo Video Bundle for permanent use.
With innovative tools and features in PaintShop Pro, you can always get the results you want, every time.
Powerful Photo Editing Tools and Features Reliable, professional-grade, versatile tools help you unleash the artistic potential of every photo.
Basic tools Crop with the Rule of Thirds and Golden Ratio composition guides lets you easily shift the focus of an image. To resize photos, you can choose from various presets and resizing functions in pixel and percentage formats, as well as by print size. The Scratch Removal and Fade Correction tools help you restore and retouch old photos, and restore the color and contrast of faded photos.
Adjustment Tools The program provides a variety of correction tools, including Brightness and Contrast, Lighting and Fill Clarity, Fading Correction, White Balance, Hue and Saturation, Color Correction, and levels and curves for adjusting the tonal range.
Selection and Adjustment Tools Here you will find various selection tools to isolate the desired areas of the image, as well as the Detail Brush, which provides a higher level of precision. Lens correction tools are used to automatically correct distortion, chromatic aberration, and vignetting. With the Straighten tool, you can easily correct a skewed horizon line. Using the Perspective Correction tool will make your photo look like it was taken from a different angle.
RAW, HDR and 360 ° camera support RAW File Lab (PaintShop Pro) provides options for organizing and storing metadata in your RAW files, as well as corrections such as adjusting shadows and restoring highlights. HDR tools let you combine multiple images of the same scene, taken at different exposure levels, to create incredibly impactful images. The program provides tools for automatically removing the image of a tripod from photographs and tools for creating interesting spherical effects. You can also enjoy 360 ° photo editing features such as leveling a photo and straightening a photo with rotation.
Time-saving Macros tools automate routine tasks and complex photo editing procedures. A macro created from a series of commands can be applied to any photo at any time. Batch processing saves time by automating tasks such as resizing images and adding watermarks and photo frames.
Creative features for graphic design
PaintShop Pro is packed with creative features for creative users.
Layers and masks
Layers and masks are the foundation of professional photo editing, compositing, and graphic design. Use multiple non-destructive layers when working with snapshots to edit images and create composite photos. The program allows you to create masks to hide or show parts of a layer, smooth transition between layers or apply special effects to individual areas of the image.
Text tools
Text elements can be used to create memes and quote pictures. A complete set of tools allows you to customize the font, size, style, alignment, leading and kerning.
Painting and fill tools
The integrated brushes, as well as the Adobe Photoshop brushes that can be imported into the program, help you bring your digital design to life. Vector illustration tools, color palettes, gradients and tubes will take your designs to the next level.
Templates and creative content
The program provides a variety of built-in templates for creating postcards, collages, brochures, business cards, images for social networks, web banners and other materials.
Intelligent solutions
With new tools powered by machine learning and artificial intelligence, you can improve the quality of your photos in record time.
AI Tools New technologies introduced in PaintShop Pro greatly simplify and speed up complex and time-consuming editing processes. Upsampling (AI) lets you enlarge photos without sacrificing quality, Artifact Removal (AI) and Noise Reduction (AI) instantly perform JPEG compression artifact removal and digital noise reduction tasks, and Apply Style (AI) ) "Transforms photos into stylized art images.
Content-Sensitive Tools In addition to the Object Removal tool, designed to remove defects or unwanted objects, the program also provides content-sensitive editing tools Magic Move, Fill Magic and SmartClone, which allow you to remove areas of an image and automatically fill in the resulting emptiness. Makeup and touch-up tools are designed to smooth out wrinkles, whiten teeth, and remove red eyes and skin blemishes.
Instant One-Click Effects and Corrections The One-Step Photo Fix tool automatically applies a set of color balance and sharpness adjustments, while the Smart Photo Fix function fine-tunes the recommended settings for stunning images. Choose from hundreds of effects (including preset filters, 3D effects, artistic effects, and lighting and reflection effects) that you can use to add shadows and edges, and convert photos to sketches and paintings.
More tools and features
With the functionally rich PaintShop Pro photo editor, you can easily create projects of any kind.
Training & Support Read extensive product information to help you take your photo editing to the next level. Find tips, tricks, effective workarounds, and more here.
Finding Learning Resources The library on the Welcome tab contains practical video tutorials. Visit the PaintShop Pro tutorial page for more information. PaintShop Pro's award-winning Learning Center offers valuable tips and tricks.
Support for the latest stylus and graphic tablets The program is compatible with all common graphic tablets, including tablets with Windows Ink and WinTab support. Now you can use the digital pen to achieve a high level of control when setting up, drawing and working with effects.
Convenient Content and Plug-in Migration Procedure Easy content migration from previous versions ensures a seamless software update process. All previously installed plugins, macros, brush tips, color palettes, gradients, patterns, textures and effects are available for transfer to the new version of the product.
Plug- in support PaintShop Pro's support for 64-bit versions of third-party plug-ins (Topaz Labs, Nik Collection (DXO), Adobe, etc.) extends the program's functionality. The PSD import and export to Photoshop features make it easy to switch to cross-platform work.
Shortcut keys Shortcut keys save work time.
What's included in VideoStudio
With a variety of powerful tools and features in VideoStudio, you can always get the results you want, every time. Our functionally rich editor allows you to easily create video projects of a wide variety of orientations.
Everything you need to create great movies: VideoStudio continues the remarkable tradition of combining advanced technology with beginner-friendly tools, tutorials and an intuitive interface to make video editing an immersive experience.
Start with the basics A set of easy-to-use basic video editing tools contains everything you need to create vibrant, immersive projects.
Drag-and-drop function To edit video, simply drag footage onto the timeline and add graphics, overlays, animated titles and transitions to the project.
Correction of defects With the functions of compensation for lens distortion, correction of various defects, finalizing the color gamut and applying white balance settings, you can turn your video footage into full-fledged movies.
Applying Effects Creative filters, effects and animated overlays make your videos richer and more immersive.
Advanced Tools Multi-camera video capture and editing functions let you showcase your footage from multiple angles, 360 ° video processing enhances the panoramic effect, and animation effects and playback speed settings fill your videos with dynamics and movement.
Experiment with color
Color Correction Intuitive controls allow you to solve problems of correction and fine-tuning. To further refine the color gamut, you can use the hue, saturation and white balance settings, as well as instant auto-correction tools.
Color Enhancement Features in this category allow you to enhance the color gamut of your videos, brighten scenes, and apply unique color filters (such as accent colors) to create a unique ambience.
LUT Profiles With LUTs (Conversion Tables), you can effortlessly recreate the color gamut of any iconic movie, instantly apply complex cinematic color effects to your video, and take advantage of technology to capture night scenes in daylight.
Instant slideshow and movie creation
NEW! Templates for instant project creation Save time with new templates for instant project creation. Select a template, drag the video onto the auto-replaceable placeholder in the timeline, and export the project. As easy as pie!
Highlights Capture Best Moments Capture is an AI-powered facial recognition tool for making movies and slideshows that automatically picks the best moments by filtering out bad shots.
FastFlick It takes just a couple of minutes to create a slideshow or movie. You only need to choose a template and add media files.
Animation tools are always at hand
Time-lapse animation To create time-lapse animation, you just need to connect your camera or use a webcam. Automatic video recording setup and on-screen guides make it easy to create well-controlled, stable motion in your video.
Customizable object trajectory New flexible controls allow you to direct the movement of graphics, shapes, titles and overlays along the desired trajectory. This tool is great for creating interesting effects, moving objects on the screen, and drawing the viewer's attention to a specific element.
Drawing Tool This tool records the drawing process and allows you to create animated drawings (such as faces or travel routes) to be added to video clips.
Experiment with speed settings
Slow & Fast Motion Effects Easy-to-use settings allow you to add slow motion, fast motion, freeze, reverse, and repeat effects.
Panning and zooming Keep your audience focused on the moment or emphasize the importance of what is happening with panning and zooming techniques that keep your subject always in the frame.
Motion Tracking Precise tools allow you to track the movement of objects in your video and link text and graphics to them. It is also possible to apply a blur effect to logos, faces and license plates.
Shooting and editing video in multi-camera mode
MultiCam Capture Lite screen recording software allows you to simultaneously record screen and webcam for captivating videos. With one click, the program starts the process of recording video and audio with subsequent processing of materials in a multi-camera editor.
Multi-camera editing Users can easily combine, synchronize and edit multi-camera footage, select the desired angles as the video plays, add picture-in-picture effects to display the best moments at the same time, and fine-tune projects in the timeline. VideoStudio Pro allows you to combine up to 4 camera angles (the Ultimate version supports 6 angles).
Showcase your multi-faceted art style with the 360 ° video editor
Editing 360 ° Videos Provides 360 ° video editing features in a timeline format, cropping tools, art enhancements, and titles and music.
Mini Planet and Rabbit Hole Effects Easy-to-use tools allow you to create spherical mini-planet and rabbit hole effects from 360 ° videos, allowing you to look at images from an unusual angle.
Converting formats The program provides the ability to convert videos in single and double fisheye format into a conformal image or a spherical panorama. You can also set the viewing angle and convert 360 ° videos to a standard format for playback on TVs and regular video players.
Export 360 ° video The program provides the function of exporting 360 ° video for viewing on VR headsets and 360 ° players. 360 ° videos can also be directly uploaded to YouTube.
Training and support
Video Tutorials New reference materials and tutorials will help you get the most out of VideoStudio. By subscribing to VideoStudio's YouTube and Facebook channels, you can always stay on top of new content releases. In addition, new users receive a free unlimited 10-day pass from StudioBacklot.tv. Includes new content for VideoStudio 2021.
Text- Based Tutorials Detailed tutorials on the most common video editing steps will help you broaden your horizons. Explore the hottest video editing topics such as stop motion animation, green screen shooting, and 360 video editing.
User's Guide Using Search Preferences is the fastest and most convenient way to get to know the information you need in the User's Guide. The User's Guide will introduce you to the basics of video editing, best practices and methods of using the application, and provide you with access to practical information about the functions of the program.
Spesifikasjoner
PaintShop Pro 2022
Systemkrav
Windows 10 (versjon 1903 eller høyere anbefales) med siste oppdateringspakke (64-biters versjoner) *
For virtualisering: Microsoft Windows Server 2012 R2, Windows Server 2016, Windows Server 2019.
Intel® Celeron G-Series eller AMD® Phenom II og høyere (Intel® i5 eller AMD® Ryzen Series eller høyere anbefales for AI-funksjonalitet)
4 GB RAM (8 GB anbefales for AI-støtte)
3 GB ledig harddiskplass (4 GB anbefales)
Skjermoppløsning 1366 x 768 (1920 x 1080 @ 100 dpi anbefales). Støtter opptil 250 dpi og viser riktig oppløsning.
Videoadapter (med den nyeste driveren) kompatibel med DirectX 10 eller høyere (for GPU-akselerasjon anbefales et DirectX 12-kompatibelt diskret VGA-kort)
Internet Explorer 11 eller høyere, med de siste oppdateringene
En nettforbindelse kreves for å bruke nettverksfunksjoner og se videoopplæringer
Støttede importformater
AI, BMP, CAL, CALS, CGM, CLP, CUR, CUT, DCX, DIB, EMF, EPS, GIF, HDP, IFF, IMG, J2C, J2K, JIF, JP2, JPC, JPE, JPEG, JPG, JPS, JPX, MAC, MPO, MRW, MSP, PBM, PCD **, PCT, PCX, PDF, PGM, PIC, PICT, PNG, PNS, PPM, PS, PSD, PSP (PSP-bildefiler), RAS, RAW, RIF , RLE, SCT, SVG, SVGZ, TGA, TIF, UFO, WBM, WBMP, WDP, WEBP, WMF, WPG ***
Mer enn 800 RAW-kameramodeller støttes, inkludert følgende filutvidelser: 3FR, ARW, CR2, CRW, DCR, DNG, K25, KDC, NEF, NRW, ORF, PEF, RAF, RW2, SR2, SRF, X3F (Sjekk ut hele listen over modeller)
Støttede eksportformater
BMP, CAL, CALS, CLP, CUT, DCX, DIB, EMF, EPS, AI, PS, GIF, GIF, HDP, WDP, IFF, IMG, JP2, J2C, J2K, JPC, JPX, JPG, JIF, JPE, JPEG, MAC, MSP, PBM, PCX, PGM, PIC, PPM, PNG, PSD, PSP (PSP-bildefiler), RAS, RAW, RIF, RIFF, RLE, SCT, CT, JPS, PNS, TGA, TGA, TIF , TIFF, WBMP, WBM, WEBP, WMF
Børsteformater
PaintShop Pro Brush (.pspbrush)
Adobe Photoshop (.abr)
Jasc (.jbr)
* Native 32-bits Windows støttes ikke lenger. Bruk tidligere versjoner av PaintShop Pro for å støtte 32-biters drivere.
** Støttes kun på 32-bit PSP.
*** WPG-format (kun WordPerfect vektorformat) støttes ikke i 64-biters versjon. WordPerfect rasterformat støttes i 64-biters versjon.
VideoStudio Pro 2021
Systemkrav
Operativsystem: Windows 10, Windows 8 og Windows 7 (kun 64 bits)
Prosessor: Core i3 eller AMD A4-serien for standard video. Intel Core i7 eller AMD Athlon A10 for HD- og UHD-video
RAM: 4 GB eller mer (8+ GB anbefales på det sterkeste for HD- og UHD-videoer)
Grafikkort: Minimum skjermoppløsning: 1024 x 768, 512 MB minimum videominne anbefalt for maskinvaredekodingsakselerasjon
Lydkort: Windows-kompatibelt lydkort
Ledig plass på harddisken: Minimum 6 GB for full installasjon
En nettforbindelse er nødvendig for å installere og registrere produktet, og for å installere oppdateringer
Importer formater
Video: AVCHD (1) (.M2T / .MTS), AVI, DV, DVR-MS, HDV (1), HEVC (2) (H.265), M2TS, M4V, MKV, MOD (1), MOV ( 3) (H.264), MPEG-1 / -2 / -4, TOD, UIS, UISX, WebM, WMV, XAVC S, 3GP, ukrypterte DVD-titler
360 ° video: konform, enkelt og dobbel fiskeøye
Lyd: AAC, AC3 (1), Aiff, AMR, AU, CDA, M4A, MOV, MP2, MP3, MP4, MPA, OGG, WAV, WMA
Bilde: CLP, CUR, DCX, EPS, FAX, GIF, ICO, IFF, IMG, J2K, JP2, JPC, JPG, MAC, MPO, MSP, PBM, PCT, PCX, PGM, PIC, PNG, PPM, PSD, PSPImage, PXR, RAS, TGA, TIF / TIFF, UFO, WBM, WBMP, WMF, Camera RAW
Eksporter formater
Video: AVC, AVI, DV, HDV, HEVC (2) (H.265), M2T, MOV (3), MPEG-1 / -2 / -4, UIS, UISX, WebM, WMV, XAVC S, 3GP
Enheter: Apple iPod / iPhone / iPad / TV, Android-enheter, Sony PSP / PS3 / PS4, Nintendo Wii, Microsoft Xbox-kompatible formater, DV, HDV
Plate: DVD, AVCHD, SD-kort, Blu-ray ($)
Nett: YouTube, Vimeo
Lyd: M4A, OGG, WAV, WMA
Bilde: BMP, JPG
Hjelpemidler
DVD-brenner kreves for å lage DVD- og AVCHD-plater
Blu-ray-opptak krever separat plug-in som kan kjøpes i appen
Støttede språk
Engelsk, fransk, tysk, italiensk, nederlandsk, japansk, tradisjonell kinesisk
AC3-lyd støttes kun på Windows 8 og 10 (dette gjelder AVCHD, HDV, DVD, Blu-ray, MOD og MPEG2 med AC3-lyd)
HEVC (H.265) krever Windows 10 og PC-maskinvare eller grafikkort med støtte for denne standarden og installert Microsoft HEVC-videoutvidelse
Støtte for import og eksport av CineForm-videoer med alfakanal
Produktspesifikasjonene kan endres uten varsel eller forpliktelser.
Distribusjonslenke: last ned