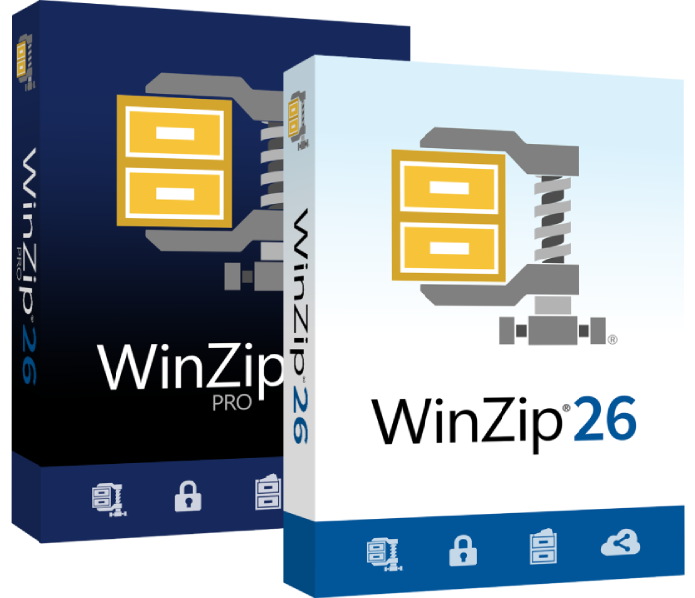 ESDWZ26PROML
Delivery time:


1
ESDWZ26STDML
Delivery time:


1
Possibilities
Faster file search
Stop looking for files where they don't exist! Even if you don't remember where the file was saved, the new built-in WinZip search feature will help you quickly find the content you want among local, network and cloud files.
Combine multiple PDFs into a single file
Use WinZip Pro or Enterprise to combine multiple PDF documents into a single PDF for saving, compressing and sharing. The program also provides the ability to set the order of the pages of a PDF document for merging and protection using the security features of WinZip.
Optimized Zipx Compression
WinZip added ZSTD compression method to Zipx. ZSTD performs faster compression and decompression of various file formats and achieves a higher compression ratio than DEFLATE and DEFLATE64 algorithms.
Attaching favorites to the files panel
The handy WinZip file panel, which is used to manage, compress and decompress files, now supports the pinning function. Favorite local, network or cloud files and folders are placed in the quick access section, from where they can be retrieved, if necessary, with a single click of a button.
File panel supports shell extension
Shell expansion operations can now be performed directly from the file panel. Shell extensions can be added directly to the explorer context menu. Since the WinZip File Panel now supports these extensions, you no longer need to leave it to perform operations previously only available in Explorer
Data backup jobs can be created directly in Explorer
WinZip Pro and Enterprise versions provide the function of creating data backup jobs directly from the explorer context menu. To do this, you need to find the files you need in Windows Explorer, select the option to create a WinZip task, and specify the frequency of starting and executing this task. WinZip will walk you through the processes of compressing and saving selected files, as well as optional notifications and sending functions.
Effective management of unnecessary and obsolete files
WinZip's cleanup tools allow you to set a schedule to start searching for local, network, and cloud files that have not been used for a long time. The files found can then be deleted, archived, or moved. When using the new "Skip" option, the specified files are not marked for further processing. WinZip Pro and Enterprise versions provide the ability to create custom cleaning tools with filter settings.
Direct access improves performance when working with zip files
WinZip Direct Access improves productivity by downloading only the parts of the Zip file that you need. The larger the Zip file, the better the performance. Direct Access downloads additional portions of the Zip file in the background and keeps them ready while you select files to decompress or view.
Convenient switching between Zip and Zipx
Now, when creating Zip and Zipx files, you can use a simple ribbon switch to switch between these formats. The destination format (Zip or Zipx) can be selected directly while saving the file.
Expanded cloud service support for WinZip Enterprise
The list of cloud services provided to WinZip Enterprise users has been expanded: WinZip now supports regions and credentials of OpenStack and SwiftStack, and also works with cloud providers Alibaba, Wasabi, HP, Oracle, Azure, WebDAV, CenturyLink, IONOS and OVH
Drag and drop support for "Add to Zip" command in WinZip file panel
The drag-and-drop function allows you to add files to Zip files located in the WinZip files panel in one move.
Direct access technology speeds up display and decompression.
WinZip direct access technology dramatically speeds up the display and decompression of large zip files located in the cloud.
Request to unpack and open
Now you can instantly extract any zip file from Explorer, WinZip File Panel, WinZip Ribbon, or File menu. In addition, the program provides tools for unpacking zip files into source folder, document folder or any other folder.
Unpacking to a folder in the files panel
Unpacking any file into the folder selected in the file panel can be done with one click.
Accelerated Launch
Significantly faster application launch allows you to increase work efficiency and fully concentrate on completing current tasks.
POSIX TAR support
The updated compression format can now be used to decompress and open POSIX TAR files
Replacing zip files with their contents
It is possible to quickly and easily unpack a group of zip files and then replace them with native files.
Create split zip files from explorer
This handy feature creates a multi-part zip file so you can easily distribute large files without worrying about timeouts and file upload / download errors.
Compress MP3 files
Optimized MP3 compression lets you store more music on your phone and cloud, and easily share playlists. Thanks to the improved Zipx format, WinZip 26 compresses MP3 files by an average of 15 - 20% without loss of quality.
Unpacking any archives
Support for the widest range of archive types in the industry allows you to extract content from a wide variety of compression formats, including Zip, Zipx, RAR, 7Zip, BZ2, LHA / LZH, VHD / VDMK, XZ, and more. WinZip encrypted files automatically destroys all temporarily extracted copies.
Compress files from anywhere
Quickly find local, network and cloud files and folders you are constantly working with in the dynamically updated section "Frequently used folders"
Flexible interface
Touch support lets you work with WinZip on any computer or touchscreen device. The WinZip app is optimized for 2-in-1 devices and automatically changes its interface depending on whether you are using your device in tablet or laptop mode.
New opportunities
NEW! WinZip Image Manager (Pro / Enterprise)
A pioneering approach to managing, sharing, and securely protecting all of your images in one dedicated application! Without there, perform the procedures for rotating, resizing and cropping single or multiple images, as well as converting files to the desired formats. Get instant access to all the features of WinZip Image Manager with a right click in Windows Explorer. Enhanced security measures allow you to delete camera information, EXIF data including GPS coordinates, and provide bank-grade encryption and lossless compression functions.
NEW! WinZip PDF Express (Pro / Enterprise) A powerful, feature-rich PDF application that takes on much more functionality than a basic PDF reader. Export PDFs to Word or Image file format and create PDFs from any document. Rearrange pages, add and remove pages, and easily merge multi-format files into a single PDF document for subsequent watermarking, security and sending.
NEW! WinZip Secure Backup (Pro / Enterprise) With this application, you can be completely confident in the safety of important information. Create simple yet reliable and efficient backups. For an extra layer of security, save copies locally or to the cloud. With WinZip, your most important files will be reliably protected and quickly restored if necessary.
NEW! WinZip Share Express (Pro / Enterprise) Be sure of the safety of your files when sharing. This powerful tool from the WinZip group of applications solves the tasks of exchanging, compressing and encrypting files in a simple and functional interface. Multi-layered protection, which includes defense-grade encryption and the option to trigger a timer (time bomb), lets you send files to one or more destinations with confidence.
IMPROVED!
With a fresh look and feel, the ribbon interface contains context-sensitive file management tools. Improved visibility of interface elements improves efficiency New stylish icons and enhancements in the program's functionality increase the visibility and, as a result, the availability of powerful control, compression and conversion functions. In addition, the context-sensitive ribbon interface adapts to your actions, such as using file and folder maintenance functions, converting formats, and compressing and decompressing files.
IMPROVED!
Clean up your computer What could be better than autovacuum? This powerful feature eliminates the need for any action on your part. Everything happens by itself. With the time-tested WinZip background tools, you can create your own rules for removing obsolete files, which will save you disk space, keep your computer running at the proper level and keep your files safe.
NEW!
Shared folder All your files - at one point! It features a streamlined process that allows you to instantly find all the files that have been shared with you. With WinZip's multi-cloud support, you can connect to Google Drive, OneDrive and other cloud storage to interact with colleagues, friends and family.
NEW!
Batch Conversion This flexible option allows you to perform a variety of tasks at the same time, including converting to or from PDF, merging multiple PDFs into a single document, converting or reducing photos, signing PDF documents, and watermarking. Just select the files you want to modify and select the conversion options you want to apply. Ready!
NEW!
Seamlessly switch between Windows Explorer and WinZip Right-click a folder to choose whether to open the file in WinZip or Windows Explorer. With a click in File Explorer, you can go to WinZip for direct access to advanced file management tools such as bulk rename, file conversion and encryption.
NEW!
Quick access to recent contacts No more wasting time searching the entire address book! WinZip offers instant access to a list of recipients whose contact information has recently been used to send emails.
NEW!
Support for NAS Devices By connecting WinZip to the Western Digital My Cloud service, you will get location-independent access to files stored in your personal cloud. Like cloud services such as OneDrive and Dropbox, WinZip can be used to view and manage your files from anywhere using your personal WD My Cloud drive.
IMPROVED!
Additional filtering options for compressing files The filtering functionality of WinZip allows you to selectively include only certain formats, such as images or Word documents, in files. You can now optionally add new files to an existing Zip file, as well as update files already included in the Zip file.
IMPROVED!
Streamlined Action Bar With easy access to the functions you need to get things done, you can be proactive and ahead of the curve. To save time, the streamlined action bar now allows you to save files, send them by mail, and share content directly from a folder or Zip-bar.
IMPROVED!
Combine multiple files into a single PDF (Pro / Enterprise) We have expanded the list of functionality for working with PDF. The file merge function allows you to combine multiple PDF documents into a single PDF file, as well as convert files of other formats into a single PDF. In addition, the process of combining various office files, images and PDF documents into a single PDF within a Zip file is now performed in fewer steps.
NEW!
Support for Windows Environment Variables To search for files and folders specific to your computer and originating from a local drive, network device, or cloud service, simply enter the typical keywords that Windows calls environment variables in the WinZip file picker field.
Comparison table
| | | |
| --- | --- | --- |
| | WinZip Standard | WinZip Pro |
| IMPROVED! Advanced filtering options for file compression | + | + |
| Compress files more efficiently by identifying duplicate files. | + | + |
| Faster Zipx Compression Reduces Output File Size | + | + |
| When creating a file, you can switch between the Zip and Zipx formats with a ribbon switch. | + | + |
| The destination format (Zip or Zipx) is specified when the file is saved. | + | + |
| Drag-and-drop support for "Add to Zip File" command in WinZip File Panel. | + | + |
| Direct access technology speeds up display and decompression. | + | + |
| Unzip the Zip file to the folder displayed in the WinZip File Panel with one click. | + | + |
| Timely prompts make it easy to unpack Zip files from Explorer, WinZip File Panel, WinZip Ribbon, or File menu. | + | + |
| Possibilities of opening and unpacking POSIX TAR files are presented. | + | + |
| The launch of the program is accelerated by 50%. | + | + |
| Unpacking a group of Zip files and then replacing them with file content. | + | + |
| Create split Zip files from File Explorer to make it easy to send large files. | + | + |
| The extended list of file types that can be opened as Zip includes DOCX, XLSX, PPTX, XPS, ODT, ODS, ODP, ODG, WMZ, WSZ, YFS, XPI, XAP, CRX, EPUB, and C4Z. | + | + |
| Use the picker tool to unzip files on your computer or directly to cloud storage. | + | + |
| An interactive welcome screen helps you quickly get started and get started. | + | + |
| The program compresses MP3 files by an average of 15 - 20%. | + | + |
| Compress and decompress files instantly with the best-in-class 64-bit application. | + | + |
| Opens and extracts Zipx, RAR, 7Z, LHA, BZ2, IMG, ISO and other major compressed file formats. | + | + |
| Methods for opening CAB, Zip and Zip 2.0. | + | + |
| Convert all major file compression formats to Zip format. | + | + |
| Use Best Compression to automatically select the most efficient compression method based on file type. | + | + |
| Compress JPEG files by 20 - 25% without loss of photo quality and data integrity violation. | + | + |
| Compression methods BZip2, LZMA, PPMD and Enhanced Deflate. | + | + |
| Compression using methods compatible with Zip 2.0. | + | + |
| "Automatically open" a compressed Microsoft Office file by double-clicking the Zip file icon. | + | + |
| The enhanced Extract and Try feature provides the ability to temporarily view the related components of an ip file, such as an HTML page and associated graphics. | + | + |
| Updating the contents of the Zip file to match the source | + | + |
| Drag-and-drop support for "Add to Zip File" command in WinZip File Panel. | + | + |
| Direct access technology speeds up display and decompression. | + | + |
| Converting files before packing them. | | + |
| Simple Removal of Personal Information (EXIF) removes personal information from files when they are sent. | + | + |
| Encrypt an existing zip file with one click from the toolbar. | + | + |
| Update the Zip file containing the encrypted files with an automatically encrypted replacement file. | + | + |
| Encrypted files contained in a Zip file can no longer be deleted without a password. | + | + |
| When converting files to PDF, resizing photos, applying watermarks, and encrypting data, settings can be selected and changed before, during, and after creating the Zip file. | + | + |
| Apply separate conversion settings to individual Zip files. | + | + |
| Using hardware acceleration available on some Intel-based computers makes AES encryption even faster. | + | + |
| For the highest level of password protection using bank-grade encryption, use the Encryption option. | + | + |
| Protects sensitive data with strong AES encryption with 128- and 256-bit FIPS-197 certified key. | + | + |
| Automatic deletion (destruction) of temporarily retrieved copies of encrypted files in accordance with the US Department of Defense standard (DoD 5220.22-M) prevents unauthorized use of data. | + | + |
| Create your own password policy, defining requirements for their level of difficulty. | + | + |
| Encrypt and decrypt confidential files and email attachments. | + | + |
| IMPROVED! WinZip protection tools in Windows Explorer menu | + | + |
| NEW! WinZip Image Manager | | + |
| NEW! WinZip PDF Express | | + |
| NEW! Batch conversion | + | + |
| NEW! General Folder | + | + |
| NEW! Support for Windows Environment Variables | + | + |
| NEW! Seamlessly switch between Windows Explorer and WinZip | + | + |
| NEW! Quick access to recent contacts | + | + |
| IMPROVED! Optimized action bar | + | + |
| IMPROVED! Redesigned ribbon interface with context-sensitive file management tools | + | + |
| IMPROVED! Combine multiple files into a single PDF | | + |
| Access to public files and the ability to edit them | + | + |
| Easy access to background tools | + | + |
| Seamless integration with Microsoft Teams | + | + |
| Organize your photos in the cloud | + | + |
| The built-in search function allows you to find the files you want faster. | + | + |
| Attach favorite files to the quick access section of the file panel. | + | + |
| Expanding the shell is done directly from the WinZip file panel. | + | + |
| Built-in cleaning tools keep your folders organized. | + | + |
| Create data backup jobs directly from the explorer context menu. | | + |
| When using the new Skip option during scheduled scans, the cleanup tools do not flag the specified files. | + | + |
| Creation of cleaning tools with special configuration and custom work schedule. | | + |
| Setting expiration dates for files and folders | + | + |
| The ability to view the password | + | + |
| Viewing the shooting date and modification date | + | + |
| Batch rename files | + | + |
| Screen sliding gesture recognition to hide file and action panels | + | + |
| Setting expiration dates for Zip and log files | | + |
| Enlarging the preview pane | | + |
| Support for Amazon S3 / AWS regions | | |
| Routine background cleanup of files and folders | + | + |
| Built-in file management | + | + |
| An efficient and easy-to-use tool for reducing the size of image files by converting images from one format to another. | + | + |
| WinZip Express makes it easy to copy cloud links to the clipboard for pasting links into other data sharing applications. | + | + |
| Manage your WinZip contact list: the program provides the ability not to add recipients of one-time messages and recipients whose data was entered manually to the contact list. | + | + |
| The new Move button next to the Add button allows you to perform tasks of adding and moving files from Explorer to a Zip file. | + | + |
| File pane tabs let you open, view, and organize different folders at the same time, eliminating the need to use multiple Windows Explorer windows. | + | + |
| The folder tree option in the files panel simplifies the tasks of navigating and searching for folders. | + | + |
| Collapse and expand the file panel with a swipe gesture. | + | + |
| Adding a network location from another domain. | + | + |
| The image information button located in the preview pane displays information such as image size, file size, pixels per inch, and more. | | + |
| In the "Frequently used folders" section, you can get quick access to local, network and cloud folders with which you constantly work. | + | + |
| Create folders on your computer, network or cloud storage from the WinZip application. | + | + |
| Securely delete files and folders with the new data destruction function. | + | + |
| Recover accidentally deleted, copied, moved or renamed files. | + | + |
| Open files from cloud storage in the appropriate or alternative application. | + | + |
| Open and edit files in the default or alternative application. | + | + |
| View data about the properties of files and folders. | + | + |
| Map a folder or network location to a drive. | + | + |
| Copy, move, delete and rename multiple files at the same time. | + | + |
| Copy the path to the clipboard. | + | + |
| Copy cloud links to clipboard. | + | + |
| View thumbnails of a preview of the selected file, which is located in a Zip file, on a computer, network or cloud storage (if the cloud service supports displaying thumbnails). | + | + |
| You can view the contents of images and documents, rotate and resize images, save images as desktop wallpaper, and view and send files using instant messengers, email, or social networks. | | + |
| For touch screens, the preview provides the ability to scroll through files using the swipe gesture. | + | + |
| The new file management button provides quick access to the most commonly used file management tools. | + | + |
| A new table view mode optimizes the screen display for mouse and keyboard use. For touch screens, there is an icon-format view mode. | + | + |
| Pin your favorites to the top level of the file panel, or use the selection tool to quickly access documents. | + | + |
| The ability to open WinZip Express in the file panel allows you to quickly perform compression and exchange tasks. | + | + |
| The new "Properties" feature allows you to view information about files. | + | + |
| You can directly connect via folders to cameras and phones connected to your computer. | + | + |
| You can easily remove folders from the list of frequently used folders. | + | + |
| You can easily remove folders from the list of frequently used folders. | + | + |
| There is an option to always display scrollbars on the desktop when using WinZip. | + | + |
| Background archiving reminds you of unused files in various folders and the recycle bin. This allows you to safely delete files or compress them and then place them on the cloud, thus restoring free space on your computer. | + | + |
| WinZip Express tools support Office 2016. | + | + |
| The Places list provides access to all files on your computer, network, Windows HomeGroup, and connected cloud storage. | + | + |
| WinZip Express for Explorer, Office, and Photos is built into the app, and WinZip Express for Outlook is offered as a free download. | + | + |
| Auto-hide scroll bars that disappear when not needed to maximize screen real estate. | + | + |
| The move option allows you to add a file to a Zip archive without leaving a copy of the file on your computer. | + | + |
| New icons make it easy to browse and find files in the Zip archive. | + | + |
| Redesigned WinZip configurable parameters make it easy to customize the application. | + | + |
| The Files Panel makes it even easier to search all your local, network and cloud files. | + | + |
| Look for the tools you need on the dynamic action bar that displays the functions you want. | + | + |
| Switch the interface to management mode when you need quick access to file management tools, as well as when you need information about the type, file size and date of its creation. | + | + |
| Work with WinZip on any computer or touchscreen device. | + | + |
| Use WinZip on new 2-in-1 computers. The interface automatically changes depending on whether you are using your device in tablet or laptop mode. | + | + |
| Rotate, resize and view full size images directly from the Zip file. | | + |
| Temporarily extract the Zip files using the Unzip and Try option, and delete unneeded files. | + | + |
| Extract files to the selected or current folder. | + | + |
| Compress individual files using the Include and Exclude filters. | + | + |
| Displaying thumbnails in WinZip Explorer makes it easier to view files. | + | + |
| NEW! WinZip Share Express | | + |
| NEW! Support for NAS devices | + | + |
| Ability to sign new and existing PDFs | | + |
| Combine PDFs | | + |
| Combine multiple PDFs into a single PDF for saving, compressing and sharing. | | + |
| Direct Access makes your cloud Zip files faster. | + | + |
| WinZip Express Automation. | + | + |
| Sharing data using the Windows charms. | + | + |
| Shortening URLs when exchanging them. | + | + |
| Links to cloud files. | + | + |
| Optimization of the workflow when exchanging data through the Slack messenger. | + | + |
| Track publicly available Zip files sent from WinZip or ZipShare. | + | + |
| Manage shared files published from WinZip or ZipShare. The ability to open and view, and republish or delete public files. | + | + |
| Ability to add and use up to 16 accounts for each cloud storage and messenger. | | + |
| Sending email to anyone directly from WinZip by adding all supported sources to the shared address book. | + | + |
| Ability to move selected files to individual Zip files for optimized data transfer. | + | + |
| Function "Send what?" allows you to send both individual files and whole Zip files. | + | + |
| Exchange converted files without the need to save first: WinZip creates a temporary file, which is then automatically deleted. | + | + |
| Publishing to YouTube, Facebook, Twitter and LinkedIn. | + | + |
| Scan and send images and documents directly from WinZip. | + | + |
| Flatbed scanner support eliminates the need for an automatic document feeder and allows multiple images to be assembled into a single PDF. | | + |
| Take a picture and share allows you to send photos directly from the camera. | | + |
| WinZip email supports IMAP for Gmail and Outlook (Hotmail). | + | + |
| WinZip email supports the Gmail 2-Step Verification process. | + | + |
| Instant exchange of links using the clipboard, instant messengers, email or social networks. | + | + |
| Select recipients by both name and e-mail address in the shared address book. | + | + |
| Share compressed files through instant messengers including Office 365 Groups, Twitter, Google Talk / Google + Hangouts, Yahoo! Messenger and Jabber. | + | + |
| WinZip sends selected files from your computer, cloud or Zip file via instant messaging, email or social media. | + | + |
| Copy and paste automatic links from the clipboard to send data via Skype and other applications. | + | + |
| Sending unpacked images to social media sites directly from a file viewer. | + | + |
| To open cloud Zip files, use direct access to cloud services including Box, Google Drive, OneDrive, Dropbox, CloudMe, SugarSync, and now MediaFire; compress files before sending, or select files to compress and send from cloud storage. | + | + |
| Improved cloud navigation and new options for uploading, sharing, moving, renaming, unpacking and deleting files and folders provide access to and control over files. | + | + |
| Send links to your files in the cloud via email, instant messengers and social networks. | + | |
| Direct access to the new ZipShare file sharing services from the WinZip app connects to cloud accounts and makes it easy to share compressed files via email and social media. | + | + |
| Convert documents to PDF (including read-only PDFs) using WinZip's built-in PDF conversion tool. | + | + |
| Automatically reduce the size of images when added to a Zip file to enable faster sending of high-resolution photos and the ability to view those photos on standard computer screens. | + | + |
| Add your own watermarks to images and PDFs to prevent unauthorized copying, increase traceability, and protect intellectual property. Optionally, you can adjust the transparency level and add a date and / or time stamp. | + | + |
| Archive files and email using the most popular mail services and systems (WinZip is configured to work with Microsoft Outlook, Mail, Gmail, Yahoo! and Hotmail), or configure WinZip to support other mail services not listed above. | + | + |
| The built-in Self-Extractor Personal Edition provides the ability to create self-extracting archives (.exe files), which allows you to send files to recipients who do not have WinZip. | + | + |
| NEW! WinZip Secure Backup | | + |
| IMPROVED! Run auto-cleanup procedure and clean up your computer | + | + |
| Automatic saving of cloud files | | + |
| Job naming last. | | + |
| Creation of new tasks based on existing ones. | | + |
| For additional protection, WinZip provides an option to shutdown your computer after performing an automatic backup. | | + |
| Use the Job Wizard's selection tool to combine local, network and cloud files in a single backup file. The resulting Zip file can then be saved to the cloud. | | + |
| Files can now be dragged from Explorer or from the WinZip File Panel directly to the Job Wizard. | | + |
| Automatic backup and edit functions let you skip intermediate steps when the default options and settings do not need to be changed. | | + |
| Back up documents, emails, desktop, favorites, pictures, libraries, and more. one click of the predefined buttons on the "Backup" tab. | | + |
| Create your own backup tasks for selected files or folders; Define WinZip tasks for regular automatic backups. | | + |
| Back up photos directly from your digital camera. | | + |
| Burn your backups to CD, DVD or Blu-ray discs (automatically split them across multiple discs if necessary). | | + |
| Send backups automatically from almost any email address, or upload backup files to a third-party server using the internal WinZip FTP client. | | + |
| Save backups to any of your connected cloud accounts or to a folder on your desktop. In addition, backups can be carried out between cloud accounts. | | + |
| With the updated Task Wizard, at the end of automated tasks, you can send notifications via instant messengers and social networks. | | + |
| Use the free WinZip Command Line Support add-on for scripting. | + | + |
System Requirements
Windows 10
Windows 8
Windows 7
Internet Explorer 8 or newer
Processor with a clock speed of 1 GHz or higher
Minimum memory size: 1 GB for 32-bit version or 2 GB for 64-bit version
Disk space: 235 MB
Minimum Graphics Software / Hardware Requirements: DirectX 9 (or higher) with WDDM 1.0 driver
Minimum monitor resolution: 800 x 600
For electronic keys:
Distribution link: download